On this day in 1910, Nikola and Dranafile Bojaxhiu's youngest child was born.
Named Agnes Gonxha Bojaxhiu, the world would come to know their daughter as Mother Teresa of Calcutta.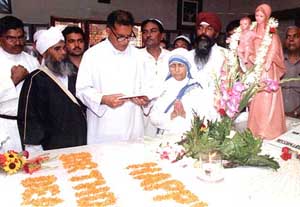 In celebration of her life, members of many faiths came together at Mother Teresa's tomb to pray for world peace and specifically the victims of the July Mumbai terrorist attack which killed 42 and injured roughly 150 people.