The Catholic hot spot this week - the place all the sacramentally inclined will see and be seen - is the Our Lady of Guadalupe Shrine in La Crosse, Wisconsin. This Thursday, on the sixth anniversary of the canonization of St. Juan Diego, the shrine will be dedicated. The dedication is a ticket event that has left pilgrims scrambling for tickets. At this point, the only way to get a ticket is if a reserved one is left unclaimed on the day of the event.
The shrine complex, a 103 acre site, is expecting roughly 200 priests, along with bishops,
archbishops and cardinals at the dedication Mass. EWTN's news director, Raymond Arroyo, will be part of the network's coverage of the event beginning at 1 P.M. Two other known notable expected to be in attendance are authors Ann Ball and "Bella" star Eduardo Verastegui.
Raymond Arroyo, Eduardo Verástegui and Ann Ball will be have a signing - DVD for Verastegui, books for Arroyo and Ball - from 9 until 10:30 that morning.

During the construction phase, the shrine was visited by 50, 000 pilgrims from the upper Midwest portion of the United States last year. Our Lady of Guadalupe Shrine spokesman Jack Socha anticipates the shrine to be more than a spiritual epicenter for the area. He feels the volume of visitors will cause economic development in the region.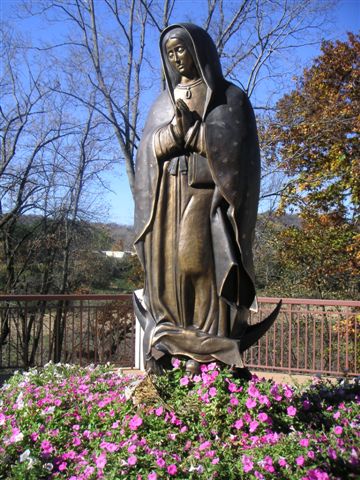 If you live in this part of the world or just want to check-out more about this shrine, here are some sites to visit:
Our Lady of Guadalupe Shrine Website -