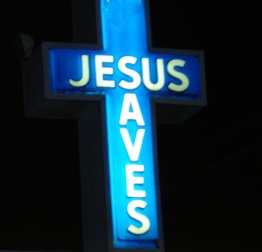 This is was in yesterday's
New Zealand Herald
:
Fliers' prayers answered

10:39AM Wednesday May 21, 2008
Two men had their prayers answered when they ran out of fuel mid-flight and brought the plane down - next to a "Jesus is Lord" sign.
Grant Stubbs and Owen Wilson from Blenheim were ascending the sloped head of Pelorus Sound in a microlight plane when the engine cut out.
"When you're in a microlight if you crash, you usually die. I turned to O B (Mr Wilson) and he said we had no fuel," Mr Stubbs told the Marlborough Express.
"I asked what we should do. He said: 'You just pray Grant.'"
Mr Stubbs said he prayed to God to get them over the ridge and find somewhere to land.
After bringing down the plane in a small grassy area, the men noticed they were beside a massive sign, about six metres high. On it was written "Jesus is Lord - The Bible".